从 入 门 到 失 业
My programming language learning path
C/C++
Java/Scala (SpringBoot/Play2/Vert.x/RxJava)
Swift/Objective-C (RxSwift)
Python (Django/Flask/Tornado)
Elixir/Erlang (Phoenix)
Golang
Javascript (Vue/Angular)
PHP (Laravel)
CommonLisp (Learning)
Rust (Will Learn)
Rules for learning a language
Must solve a problem
Problem not addressed by current stack
"Fast" is not a purpose
Should be the best solution
Type System
Evolution of Programming Languages
Classify
Evaluate programming languages
What's the big deal with Elixir?
Ruby-like focus on developer productivity
Embedded database
Compiles down to code to run on the BEAM Virtual Machine
BEAM/OTP is what Erlang runs on
Erlang/BEAM is the best existing language for concurrency, consistency and fault tolerance, hot code swapping
Erlang does not focus on developer productivity
Problem in Ruby is concurrency model
So what does that mean?
Standard Web App
OTP
What's the big deal?
Facebook paid $22 billion for WhatsApp
WhatsApp had $10 million in revenue
What was the big deal?

Erlang/OTP
2 million users / server
No central relay point
Scales horizontally
Deploys w/o disconnect
Other languages
Boot up
Memory is shared

Where leaks come from
Changing shared memory requires a mutex lock

Garbage collector periodically runs
Requests run in threads in the same process

Threads are cooperatively scheduled
Deployment means shutting down current code, starting new code
Erlang/Elixir/OTP
No memory is shared
Data structures are immutable
Each Erlang process (basically a light thread) has its own HEAP
Code can be hot deployed

New code runs next time it's accessed (existing code keeps running)

Processes are prescheduled
Sound familiar?
Difference is size of the allocations

An Erlang process is 0.5 kb
A Go goroutine is 2 kb (version 1.4)
A Java thread is 1024 kb on 64 bit VM
PHP request varies by how much is loaded
Laravel averages 7-12mb / request
Programming Elixir, Chapter 15 Laptop w/ 4 cores and 4gb of RAM counting concurrently 1,000,000 processes = * 0.48 gb in Elixir * 1.91 gb in Golang (go routines) * 977 gb in Java (threads) * 6,836 gb in PHP (Laravel requests)
Immutable Data
There's no passing pointers
Add something to a list, get a new list
Everything is "message passing"

Avoids mutex locks
Enables per-process garbage collection
Makes calling a function locally, in another process or on another machine transparent
3 Databases Built In
ETS – Erlang Term Storage

In memory table storage for a node

DETS – Disk-based Erlang Term Storage

Disk table storage for a node
3 Databases Built In
Mnesia - #awesome

A relational/object hybrid data model that is suitable for telecommunications applications.

A DBMS query language, Query List Comprehension (QLC) as an add-on library.

Persistence. Tables can be coherently kept on disc and in the main memory.

Replication. Tables can be replicated at several nodes.

Atomic transactions. A series of table manipulation operations can be grouped into a single atomic transaction.

Location transparency. Programs can be written without knowledge of the actual data location.

Extremely fast real-time data searches.

Schema manipulation routines. The DBMS can be reconfigured at runtime without stopping the system.
Loops?
How do you have a for loop with an immutable increment?
Recursion. Lots of recursion.
"If Java is the right one to run anywhere, then Erlang is the right one to run forever."

- Joe Armstrong
Let it crash
Let it crash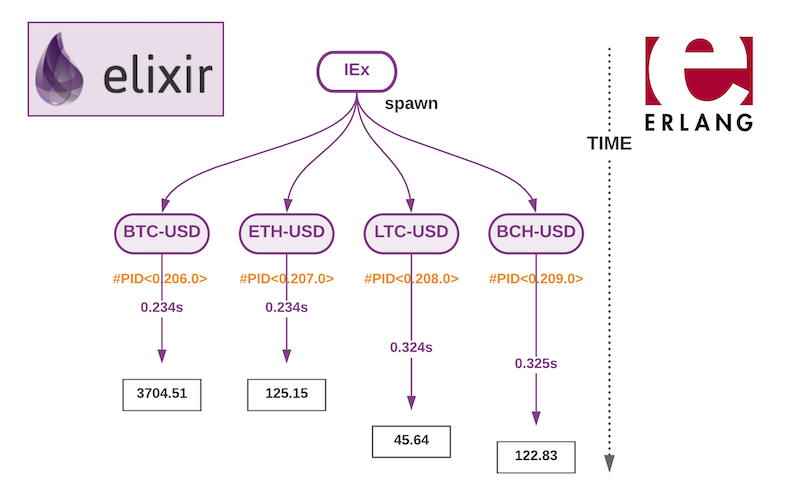 Pattern Matching Functions
defmodule Factorial do
    def of(0), do: 1
    def of(n), do: n * of(n-1)
end
defmodule PrintStuff do
  def print({:error, stuff}) do
    IO.puts "ERROR! #{stuff}"
  end
  def print({:ok, stuff}), do: IO.puts stuff
end
PrintStuff.print({:ok, stuff})

Parallel Map
defmodule Paraller do
  def pmap(collection, fun) do
    me = self
    collection
    |> Enum.map(fn (elem) ->
        spawn_link fn -> (send me, { self, fun.(elem) }) end
       end)
    |> Enum.map(fn (pid) ->
         receive do { ^pid, result } -> result end
       end)
  end
end

OTP
defmodule Stack do
  use GenServer

  def init(stack) do
    {:ok, stack}
  end

  def handle_call(:pop, _from, [head | tail]) do
    {:reply, head, tail}
  end

  def handle_cast({:push, item}, state) do
    {:noreply, [item | state]}
  end
end

{:ok, pid} = GenServer.start_link(Stack, [:hello])

GenServer.call(pid, :pop)            #=> :hello
GenServer.cast(pid, {:push, :world}) #=> :ok
GenServer.call(pid, :pop)            #=> :world

Phoenix Framework
Phoenix LiveView

real-time user experiences with server-rendered HTML

No JavaScript!
Erlang is Full Stack